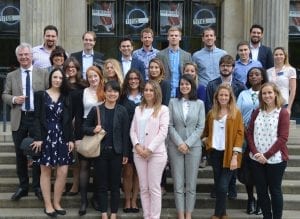 Hanover, July 15th 2016 | Legal questions regarding Digital Economy were the topic of this year's Alliuris Summer School program that took place in Hannover. Twenty young lawyers from Europe, USA, Brazil, Russia and China were guests at Herfurth & Partner and dealt with questions concerning Industry 4.0, digital work, international copyright, data protection in the EU and the USA, data ownership and cybercrime. The lawyers analysed how companies work together while engaging in an intensive data exchange. They developed basic points about the handling of such confidential business data, such as: using data for production purposes, refraining from transmitting data to a third party, limiting assessments, fallbacks and others.
Alliuris has organised the annual Summer School for the past ten years as part of the Alliuris Academy program to promote young lawyers. "The Alliuris Summer School Academy was a fantastic way for young attorneys and hopeful attorneys to discuss global issues and the impact that the constantly evolving laws of our representative countries have on these issues. Overall, it was an unforgettable experience and a tremendously successful blend of networking and receiving a vital education on current international topics," said Jonathan Goeringer from New York.
Ezgi Kazanoglu from Istanbul added that: "The lectures offered current topics like questions regarding industry 4.0 and international data protection that I can familiarize my office and our clients with."
The Alliuris Group consists of 30 offices with 500 lawyers in Europe, USA, Brazil, Russia, China and India. Herfurth & Partner is one of the founding offices and leads the group from Hannover. "The professional and personal development of the next generation of young lawyers is close to our heart; they are the ones that transport knowledge and responsibility into the future. Like most of our clients, we think in generations and not in the success of each quarter," said Ulrich Herfurth, the Chairman of Alliuris.