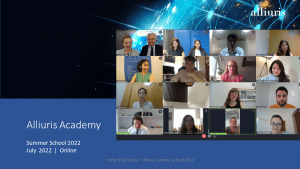 Hanover, July 2022 | The annual Alliuris Academy took place from 18 to 22 July 2022. The Summer School was held online for the third year in a row because of Covid and was hosted by Herfurth & Partner in Hanover, Germany. Professor Christiane Trüe, who teaches at Bremen University of Applied Sciences, led the Academy again this year.
This Academy was a premiere because not only young lawyers from the Alliuris member firms were invited but also students from the University of Göttingen who do their Master in International IP and IT Law had the chance to attend. Alliuris could welcome attendants from i. a. China, Thailand, India, Bulgaria, Turkey, Italy, Spain, Germany, Netherlands, UK and Brazil.
The Summer School focused on digital topics as they continue to be the driving factor of law and economy. The lectures were designed in a way that they had high practical use for the young lawyers' work in their firms.
Topics were:
Digital Policy in Europe and USA,
The new Sales Rules in Europe & International Employment,
The General Data Protection Regulation & Data Protection and International Business,
The new Market Rules in Europe, and
International Supply Chains.
The last topic was picked out as a central theme due to the Ukraine war.
The days were shaped interactively; the speakers had prepared surveys, quizzes and discussion rounds. Everyone enjoyed the interaction and the contributions, which came from so many and diverse countries that they lead to rich discussions.
As it became a tradition for the Summer School, the week closed with a virtual Get Together.