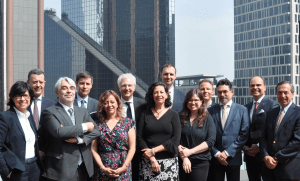 Mexico City, 09 March 2020 | This year's Alliuris Spring Conference took place in Mexico City. The law firm Bazán, Cambré & Orts from Argentina was welcomed as a member in Mexico. The conference was hosted by Maria Esther Rey and Maria Teresa Paillés from the law firm Romo Paillés which is restructuring on April 1st. Both lawyers will become partners of SMPS, a medium-sized commercial law firm in Mexico City which has been in existence for over 20 years. SMPS has meanwhile been accepted as a successor as an Alliuris member.
The professional part of the conference was focussed on law in Mexico. The attendants became an overview about business and law in Mexico and gained some insights into Mexican corporate, tax and labour law. During the conference, the members shared how they handle the rapidly progressing digitalisation and how they develop and perform digital business.
The meeting in Mexico City was also a great possibility to learn more about the country ­ not only Mexico's political and economic situation but also its rich culture and history.