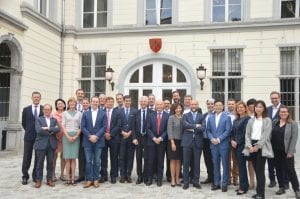 Brussels, 07 June 2019 | Free trade, data protection and the impact of technology on developments in legal advice were on the agenda of the Alliuris conference and annual meeting held this year in Brussels.
The members of the Board were re-elected:
– Ulrich Herfurth, Hanover (Chairman)
– José de Athayde de Tavares, Lissabon (Treasurer)
– Giuseppe Cattani, Mailand, (Academy)
– Karin Absalonsen, Kopenhagen
– Nicolas Boulay, Paris
– Antoni Fito, Barcelona
– Daniel O'Connell, London
– Renato Pacheco Neto, Sao Paulo
– Handan Oktay-Weldishofer, Istanbul
– Alexander Steenaert, Utrecht
– Raymond Vandenberg, New York
– Atul Dua, Neu Delhi.
With TGC Lawyers from Warsaw, Alliuris has added a further member firm and expanded its presence in Central Europe, while further guests came from law firms in Guangzhou/ China and Mexico City. Alliuris pursues its expansion policy with a careful selection of law firms, as the intensive cooperation is based on very good connections and special trust between the members.