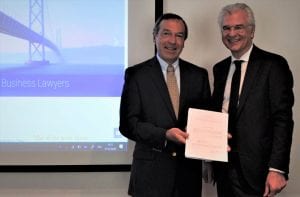 Buenos Aires, 07 March 2020 | The law firm Bazan, Cambre & Orts Abogados was admitted as a new member of Alliuris at the Alliuris Board Meeting in Mexico City.
Bazan, Cambre & Orts offerst full-fledged legal services in almost every area of corporate law. The Firm has a diverse clientele, including publicly and privately held local and multinational corporations, representative of a wide range of activities and virtually all economic sectors at large.
Over the years, Bazán, Cambré & Orts has gained significant expertise and acknowledgment in the practice of energy law, becoming a leading firm in oil and gas. As a pioneer in this field, the Firm has been actively working in this area for over 30 years. Both Bazán, Cambré & Orts and their individual partners and associates have been recognized as renowned experts by leading international guides of the legal profession, such as "Chamber & Partners", "Who´s Who Legal" and "Expert Guide".