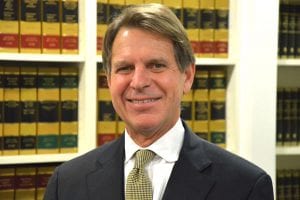 Hannover, 28. April 2016 | Herfurth & Partner, together with the New York law firm Vandenberg & Feliu LLP, made themselves available for an entire day in the German American Business Lounge at the Hannover Industrial Trade Fair. The Lounge provided both an opportunity for individual conversations and during lunch a more general discussion about the U.S. among the business people and experts in attendance. Through their association in the Alliuris Group, the two law firms have worked closely together to set up new companies and develop business in the U.S.
Ray Vandenberg, a New York attorney and managing partner of his law firm, explained that a "limited liability company" or "LLC" offers a flexible means of doing business in the U.S. A "corporation" or "Inc." is not always an essential organizational form. He also commented that, in practice, middle-market companies have little risk from product liability lawsuits and can take various measures to avoid them.
Vandenberg & Feliu will shortly be merging with the firm of Michelman & Robinson LLP. As a result, its presence in New York will grow – particularly since Michelman also has four offices in California, including San Francisco, Los Angeles and Silicon Valley, and is active in the areas of IT, intellectual property and digital media, among others. Ulrich Herfurth, as chairman of the international Alliuris Group, welcomed this development: "The strengthening of our group in the U.S., coupled with additional competence in IT and media fits perfectly with our own expertise in Industry 4.0, matching well with the vision of integrated industries and the "Internet of Things" in the U.S.