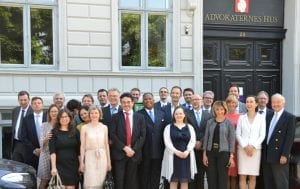 Copenhagen, June 4th 2016 | Nyborg & Rørdam hosted this years´ General Meeting in Copenhagen. The annual conference was framed by an interesting and diverse program. The firm had organised a presentation on social media by Astrid Haug, an online marketing expert and social media consultant. The course was also referring to the media presence of Alliuris and showed new possibilities. The presentation stimulated many fruitful discussions and generated new ideas.
The Alliuris tax group under the lead of Antoni Fito, lawyer at Marco Legal, has generated an overview over the tax competences and resources of Alliuris member firms.
Besides the legal program, the firm had organised a visit at a global pharmaceutical company, and a guided cruise on a boat so that the group could see the exciting architecture of Copenhagen.