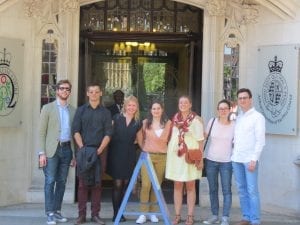 London, July 2015 | The Alliuris Academy has already been held in several countries. The training serves as an opportunity for young lawyers to experience the possiblilities a network can offer. This year the Summer School took place in London from 07th – 11th July 2015 and was organised by our Partner law firm Kerman & Co. LLP. It was attended by young lawyers of our Alliuris member firms in Brussels, Paris, Barcelona, Sao Paulo and Milan.
The Alliuris Academy includes 3 days of legal seminars. This year the seminars covered topics such as the EU Public Procurement Regime, the Civil Procedure Rules, Intellectual Property Aspects of 3D printing, an Introduction to Sports Law as well as Celebrity Rights.
Furthermore, the Alliuris Academy also offers cultural experiences. The visit to London included a guided tour of the Royal Courts of Justice, a visit to the Supreme Court as well as an audio tour of Houses of Parliament.
The very well organised meeting by our host Kerman & Co LLP met great enthusiasm among the attendees.