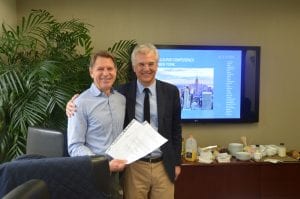 New York, October 6th 2016 | Michelman & Robinson hosted the Alliuris Fall Board Meeting in New York City this year. They merged this June with our former member Vandenberg & feliu.
Ian Shane and Joshua Bernstein highlighted in their presentation on real estate in New York the main points when it comes to buying, selling and leasing real property.
Karin Absalonsen, lawyer at Nyborg & Rørdam, gave a media presentation about the new European data protection base regulation. She also established a group by now dealing with these questions.
Another field of advice is the use of data and the protection of non personal data in the business and the operation. Alliuris has developed a data use agreement concept that could be the base for legal service.
The meeting offered great new information but also spare time activities like a visit at the Metropolitan Opera seeing La Bohéme. A visit at Whitney museum and some sightseeing completed the meeting in New York.